News
Dutch Connections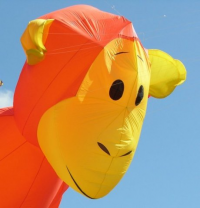 One of the world's top 10 kite makers - Rob van Weers - will fly a 9m Monkey Kite, high in the sky at the Big Dutch Day Out in Foxton, on 24 April.
The Monkey will advertise Dutch Week on his T-shirt. And it's all part of a kids workshop to promote vliegeren and kite making.
Rob loves kites - a good old ancient Dutch tradition, from a flat and windy country - and loves inspiring others to make vliegers and fly them even more.
Bring your kids and grand-kids along. The fun starts at 1pm. And we will keep the little ones busy for well over an hour! They can win prizes for their kites: vliegers, Dutch things, and Foxy Foxton Foxes!